PQE - Like 70% of the companies this past quarter, PQE had a nice jump on an "upside earnings surprise". What lies ahead though is is a long term resistance line (pull up a 4-year chart and draw the down trend line) and, other than the volume spurt on the earnings report, there has been no follow through volume. My expectation is that this stock should pull back here towards the $22 area and then attempt another run to resistance. If the volume continues to lack, then the short trade looks even better.

<![if !vml]>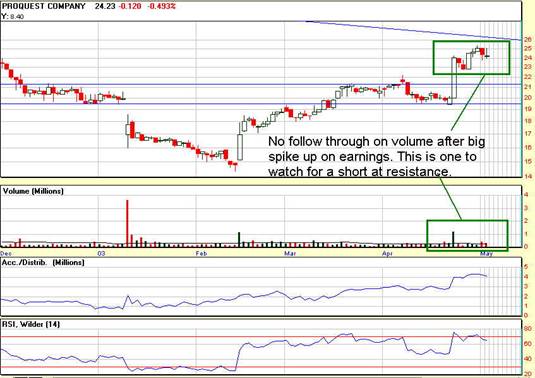 <![endif]>
If there's a chance to short this Monday, it would be a good choice with the idea of taking some quick profits back to the $22 area and holding some in case it can't muster a rally. If it does on weak volume, then you can add to the short.
STC - When a company reports record earnings and the market reaction is to sell it hard, you have to think someone knows more than you do. Such is the case with STC. Take a look at this chart.
<![if !vml]>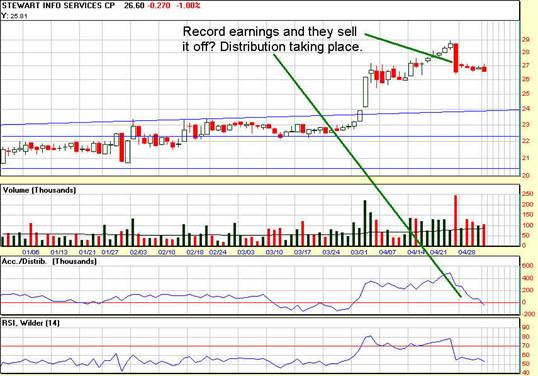 <![endif]>
This may take a while to work down further as I would expect an attempt for this stock to challenge the recent highs. If volume doesn't pick up on that challenge, you should consider a short here as heavy distribution took place on the earnings news.
UTX - Sooner or later fate will be tempted one time to many, but that doesn't stop me from betting against what looks to be good odds. Look at the UTX chart as an example. There have been a handful of failures at resistance over the past year. When this happens and we are sitting at that resistance line again, do you ignore it? Well, you shouldn't. You can play the resistance line heavily and if wrong, you have a trend line break that you can cover into with small risk. If it truly does break higher, then consider reversing as the support becomes quite formidable at that point.
<![if !vml]>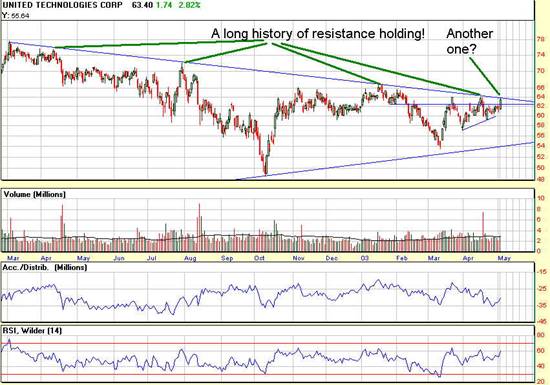 <![endif]>
Is Shorting the Only Option Now?
Lest you think that all I'm considering right now are shorts, that would not be the case. We have a number of longs on the books and would buy some more on retraces to breakout areas. It's just that the resistance areas ahead are so compelling that it doesn't make sense to not attempt to play them. Sure they could be broken and if they are, there will be a serious round of short covering that could drive us higher (and yes, I would try to cover and short into that euphoria as it begins to look tired since reading charts is not about a line holding exactly), but there is a good chance that at least initially, these resistance areas will prove to hard to break and a retracement should occur. That's the thinking right here.